Huǒguō
A Personal Canons Cookbook Feature by Kelsea Yu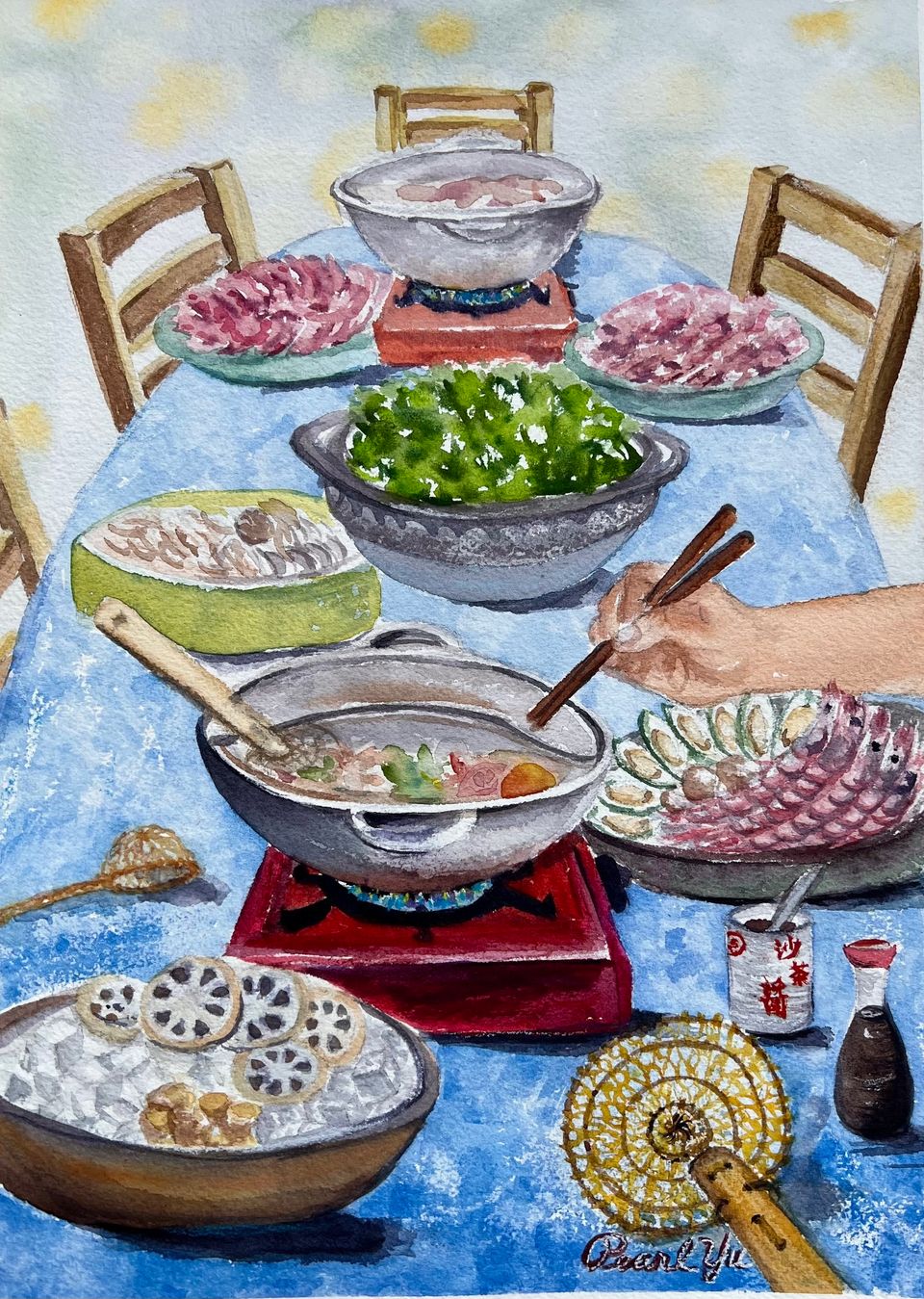 Kelsea Yu is a Taiwanese Chinese American writer who is eternally enthusiastic about sharks and appreciates a good ghost story. Her short stories and essays appear in magazines such as Fantasy, PseudoPod, and Reckoning, and in various anthologies. Her novella, Bound Feet, is published by Cemetery Gates Media, and her debut novel, It's Only a Game, is forthcoming from Bloomsbury Children's in 2024. Find her on  Instagram or Twitter as @anovelescape or visit her website kelseayu.com. Kelsea lives with her husband, children, and a pile of art supplies in the Pacific Northwest.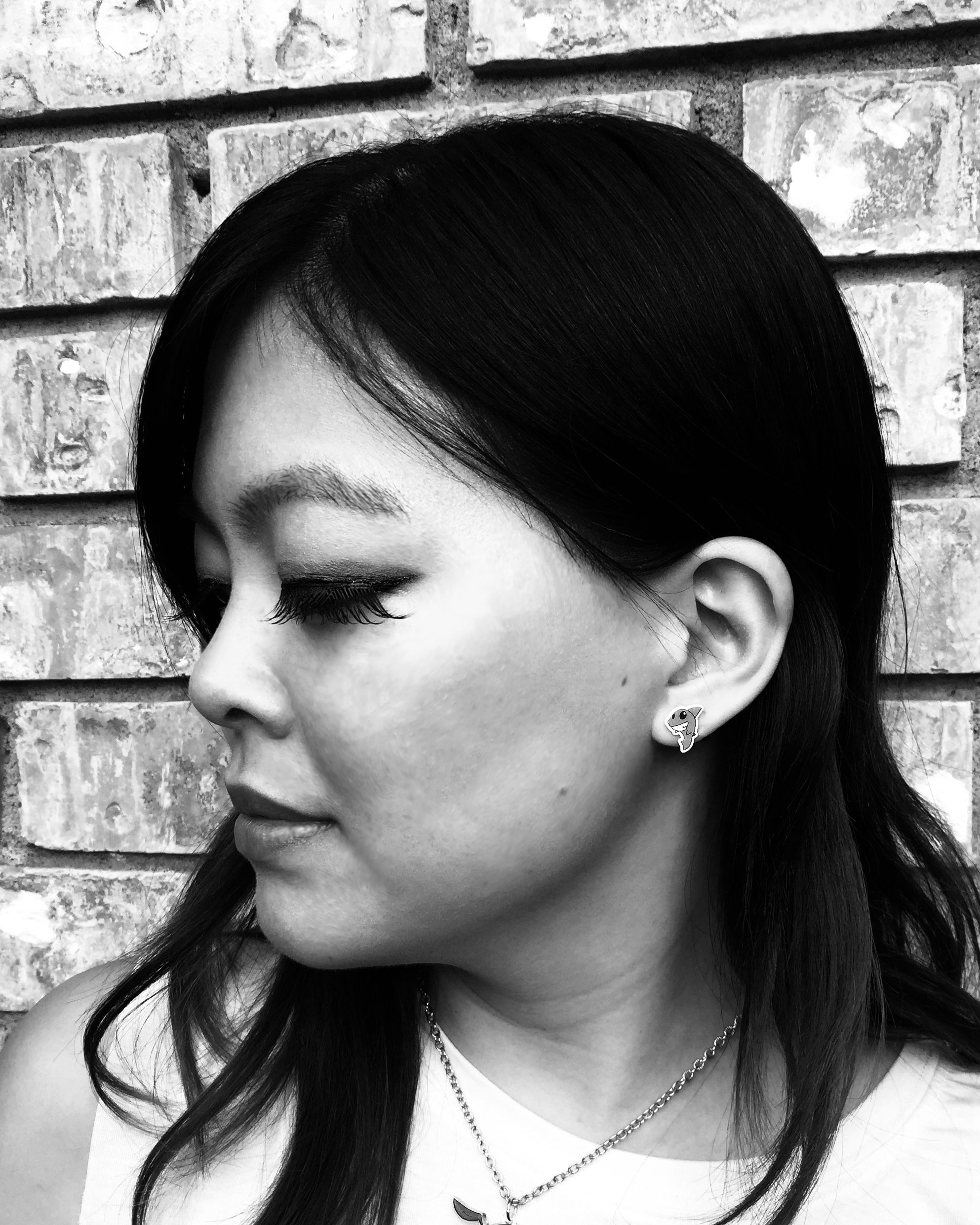 ---
In my family, the only traditions that matter involve food—and if you ask any of us for our favorite holiday, the unequivocal answer is New Year. We're not fussy about which turn of the calendar we celebrate: Gregorian, Lunar, or somewhere in the vicinity. All that matters is that it's cold outside and everyone's in town.
On feast day, my dad conjures portable burners from some mysterious cupboard and starts testing butane cylinders. My mom—and whomever she's recruited as sous chef—chops ingredients and arranges them on her biggest serving platters, while the rest of us clear and set the table: bowls, chopsticks, and metal strainer spoons. We add two extra leaves to the extendable dining table; we'll need all the space we can get.
When everything's ready, all of us—my parents, myself and my brothers, our partners and children—sit at the table, surrounded by uncooked things. There are heaps of fresh and fried tofu, cubed daikon radish and taro root, slices of lotus root and several varieties of mushrooms, fish balls and raw shrimp, thinly sliced meat sorted into neat piles, and chopped napa cabbage. We each blend sauce in our individual bowls, customizing it to preference: satay, soy sauce, Lǎo Gān Mā, and pasteurized raw egg. Someone brings the pot of broth over and places it on the portable burner at the table's center. My dad starts up the fire.
We make conversation while we wait for the broth to boil. When telltale bubbles form and the churning breaks the surface, we begin.
One or two people use the designated "raw food" utensils to place ingredients in the soup. Everyone points to what they want added. Platters are passed back and forth or held up for ease of reaching the ingredients. The kids ask questions, trying to get the hang of it. My mom—by far the best chef of us all—pays attention to the order in which everything enters, making sure nothing is under- or over-cooked. As stomachs growl and delicious aromas waft up from the soup pot, we wait once more. Several minutes pass before my mom gives us the go-ahead. Then, people start dipping strainer spoons in, finding goodies in the soup to place in each other's bowls.
It's loud and chaotic. Everyone talks over one another. Spoons cross, sauces are passed around, broth occasionally splashes out, and at any given time, some people are eating while others are serving food or adding ingredients to the pot.
It's the kind of meal that requires participation, collaboration, consideration. The kind you can't have alone, because then it would just be soup. It's like stone soup, except no one's reluctant to share.
It's the kind of meal that helped me learn the value of how we care for each other.
The arrival of COVID opened our collective eyes to many things. Systemic problems that had been hiding behind the veneer of business as usual bubbled to the surface. Accommodations disabled folk have spent years asking for were suddenly possible when abled folk needed them. Those of us who weren't doing so before learned to continually assess risk for ourselves, for our loved ones, for the strangers around us. Simultaneously, we found ourselves physically cut off from the spaces we were used to inhabiting: the homes of friends and family, schools and workplaces, bookstores and movie theaters.
It was in this time that I started to rethink my own relationship with community. I grew up as a quiet, happily independent kid in the United States, where the individual is prized over the collective. I could so easily have become someone interested only in her own silo, in her own tiny piece of the world. I could have ended up buying into a line of thinking where what I did affected only me.
But the traditions my parents and their families—who are Taiwanese Chinese and Filipino Chinese—brought when they migrated here were indicative of the values that they raised us with. The importance of sharing, of caring, of community.
Childhood dinners with extended family where we'd take over a restaurant, each table ordering the same premade menu, each person waiting their turn to spin the round tabletop and get their food. Always balancing who is taking what, making sure no one goes without a chance to try a dish.
Visiting my grandparents and sitting around the table, five families sharing my grandmother's delicious cooking.
Hot pot, where each of us has a role, where everything is communal, where the point is to talk and laugh and share and convince someone else to finish off that last piece because god, I think I'll burst if I try to eat one more oyster mushroom. Waiting patiently until the end, when the glass noodles go in, and everyone's dished out a bowl of noodles soaked in broth flavored by everything we cooked together over the course of the evening.
Huǒguō showed me how much better things could be when shared with others; how many lovely things we miss out when we don't participate in community; the importance of taking each person's needs and preferences into account. How goddamned beautiful it is when we consider others.
I went vegetarian years ago. Without prompting or discussion, my mom switched to doing two burners, two pots of soup. One bigger pot of meat broth and a smaller pot of veg broth. She and I share the smaller pot, even though she's not vegetarian, and others take ingredients from it here and there. We continue our family tradition; no one is left out or has to tend a lone pot. And each new member of our family—partners, kids—is welcomed in.
On the New Year after my daughter turned three, I helped her stand up on her chair. Careful to ensure she was safe from the burner, I helped her pick up the strainer spoon, her hand nestled in mine. Together, we dipped the spoon in, caught a piece of tofu (her favorite), and placed it in her bowl.
---
Kelsea's Huǒguō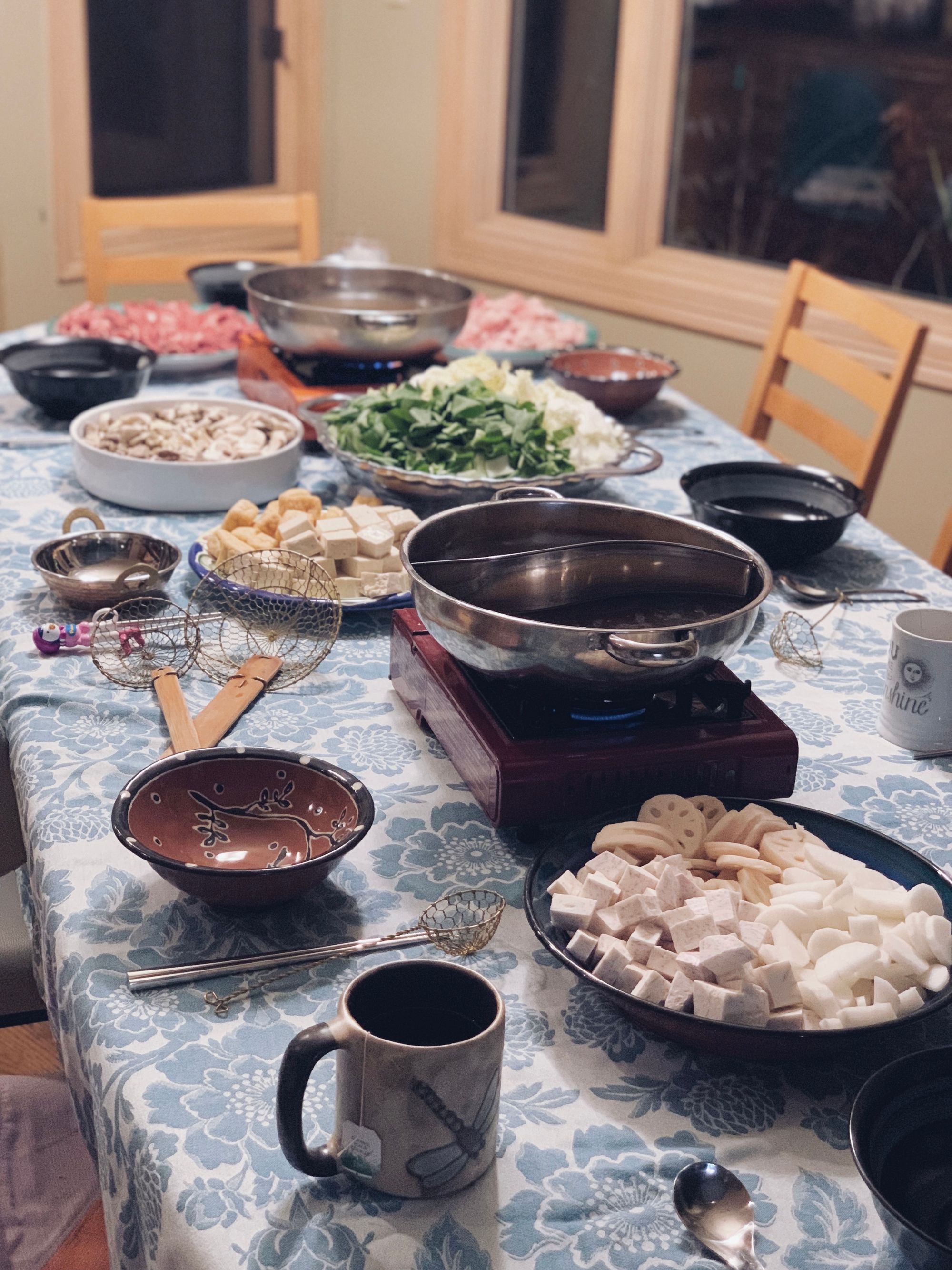 This is a recipe for a celebratory hot pot meal. Prepared as written, it produces enough to feed about 4-6 people.
A note from Kelsea and Pearl Yu: Hot pot recipes and traditions vary by region and family. We (Kelsea, the daughter, and Pearl, the mother) put together this recipe and notes based on our family's tradition, which is Taiwanese-based. In general, hot pot recipes are flexible and can be tweaked to preference as well as food and equipment availability. See our notes at the bottom of the recipe for additional info, including ingredient notes and cooking alternatives.
Get the Recipe: PDF, Google Doc
---
A note from Gailey: Lunar New Year is a time for community, family, and joyful anticipation. Kelsea's essay is a beautiful reminder of why we come together in celebration. We celebrate together, and we learn how to care for each other in hard times too.
On the evening of January 21, a community in Monterey Park came together to celebrate Lunar New Year. Just a few blocks away from the festival, eleven people were killed - and many more injured - in a mass shooting. If you have been impacted by this unspeakable act of violence, or if you are looking for ways to support and sustain those who have been impacted, click here for verified resources.
No matter what you do: Care for yourself and the people around you. Believe that the world can be better than it is now. Never give up.
—Gailey