Preview: Know Your Station #1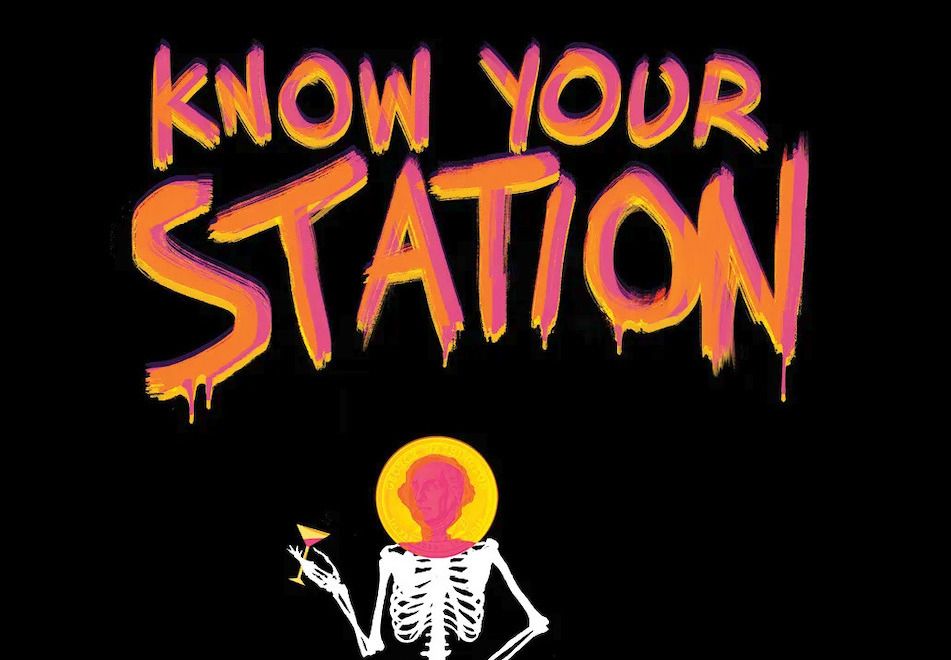 *Thanks to those who let me know that the link in the original version of this was broken for mobile! Here's a fixed version! -gailey
My original comic series in collaboration with Liana Kangas comes out December 6th!! I'm working with BOOM! Studios and my beloved editor Elizabeth Brei to bring you this one and I'm so excited to share it with y'all.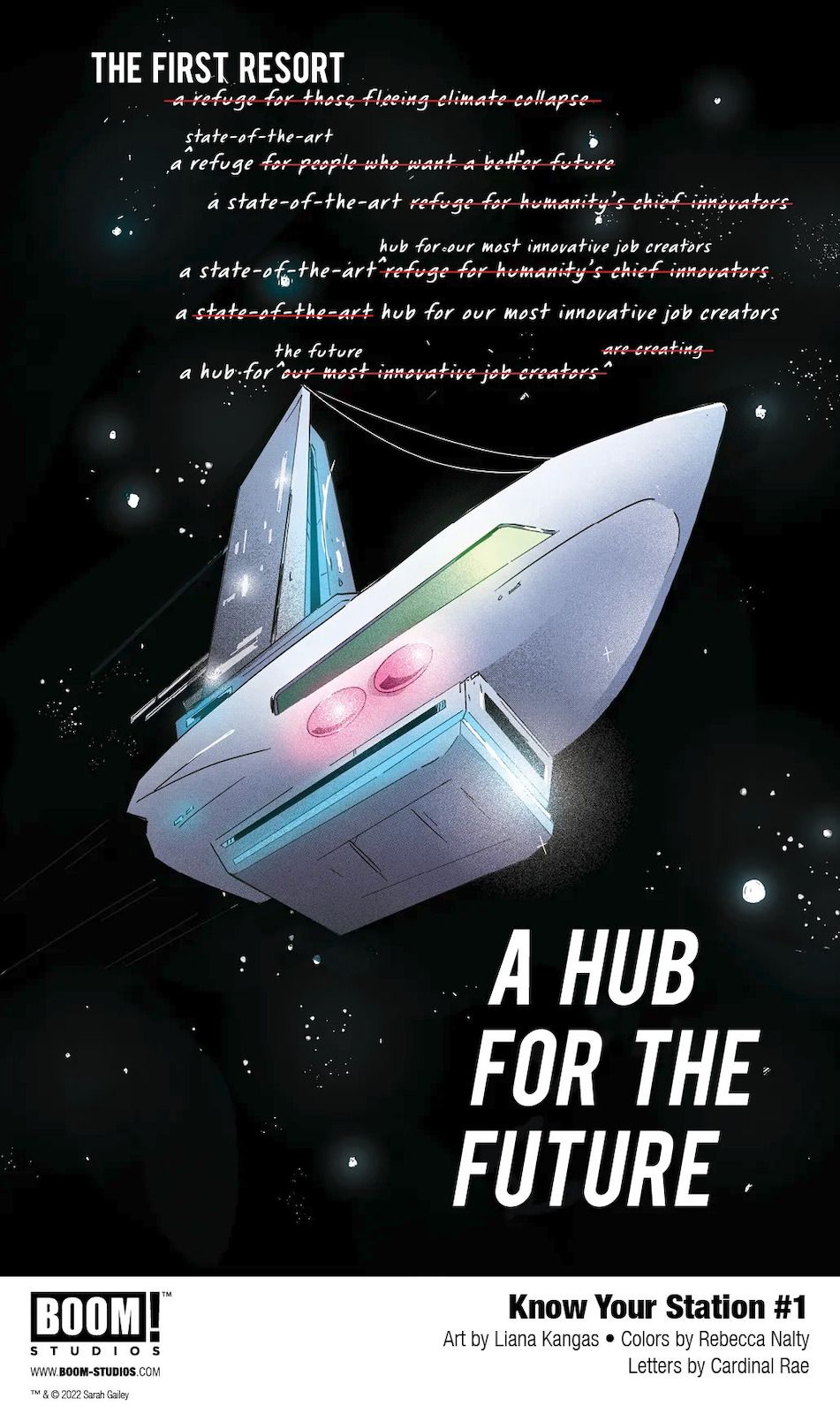 KNOW YOUR STATION is a 5-issue miniseries that takes place on a space station called The First Resort, where Earth's 1% have moved to escape global climate collapse. That's right: space is no longer the one place that hasn't been corrupted by capitalism. When the wealthiest residents of the space station start getting murdered in increasingly gruesome and elaborate ways,  the station staff has to figure out if there's a killer in their midst... and if it's really worth trying to stop them.
Hannibal x The Expanse x Avenue Five. That's the pitch.
You can go check out a preview RIGHT NOW. Read the first five pages and check out variant covers from Becca Carey, Jenny Frison, Tula Lotay, Jenn Woodall, and of course Liana Kangas, who is my brilliant co-creator and the artist for the series. Here's a peek at Becca Carey's cover to whet your whistle: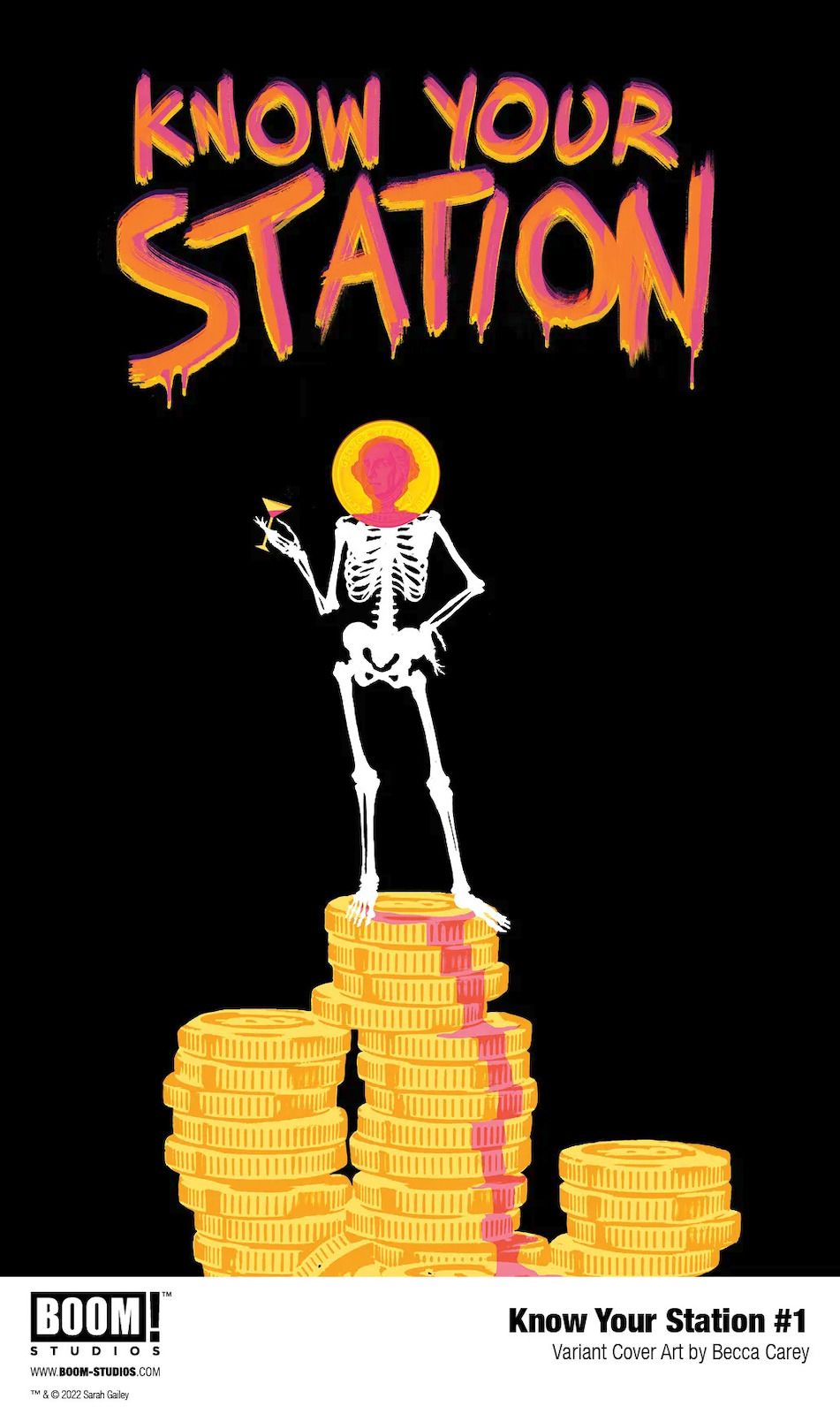 Can you believe how gorgeous that thing is??? And that's just ONE of the incredible variants we got for this series!!!
In addition to my writing and Liana's art and these objectively kickass covers, we've got colors from Rebecca Nalty and letters by Cardinal Rae. This is my first time working with Rebecca and honestly I screamed when I saw their colors for the first time. The things they do with pink are unreal. Cardinal Rae lettered my first original comic series, EAT THE RICH, so I knew to expect great things from them for this project - but they still managed to knock my socks off.
Go check out their amazing work in this preview, and tell your local comic shop you'll be picking up a copy of KNOW YOUR STATION on December 06.
You're going to love this one. I just know it.
-gailey