Personal Canons: Lloyd Alexander
A Guest Feature by Suzanne Walker
In addition to my own reflections and essays purchased from among the many dazzling submissions I received in response to my open call, the Personal Canons series will also feature guest posts from brilliant folks in the writing community. Last time, I wrote about All the Birds in the Sky. Today, I'm thrilled to feature Suzanne Walker.
Suzanne Walker is a Chicago-based writer and editor. She is co-creator of the Hugo-nominated graphic novel Mooncakes (Lion Forge/Oni Press). Her short fiction has been published in Clarkesworld, and she has published nonfiction articles with Uncanny Magazine, StarTrek.com, Women Write About Comics, and the anthology Barriers and Belonging: Personal Narratives of Disability. She has spoken at numerous conventions on a variety of topics ranging from disability representation in sci-fi/fantasy to comics collaboration. You can find her posting pictures of her cat and chronicling her longsword adventures on Twitter.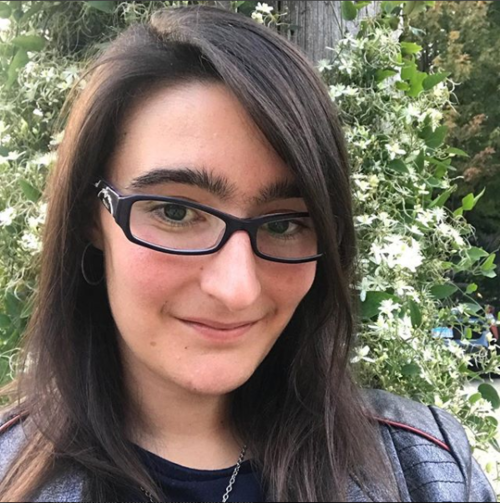 ---
I learned how to read with books about girls. The first chapter books I remember reading were the American Girl series, then a series called the Jewel Kingdom (about four princess sisters who wield magical jewels to fight evil—in true 90s fashion, each book came with plastic gemstone jewelry, which was absolutely rad). From there I moved on to Babysitters Club books, then the Dear America diaries of girls at different points in history.
With the exception of the Jewel Kingdom, none of my early books were SFF stories. But they all centered girls of different races and abilities, setting the bar so high that even though I rarely found books about hard-of-hearing or Middle-Eastern girls, I still felt seen among the wide swathes of protagonists I met. I credit those books with much of my outlook on life now, as well as the characters who I center when I tell my own stories.
Somewhere during that period, I picked up a book called The Black Cauldron, by Lloyd Alexander. It was my first introduction to a secondary fantasy world so vast and lush that I could imagine myself in it with remarkable ease. Based loosely off Welsh mythology, the world of Prydain contains undead soldiers, evil witches, giant cats, dwarves, and giant winged birds called gwythiants.
I was enchanted in a way I'd never been with any other book before. I wanted to live in this world, despite its rather high body count. I wanted to pick up a sword and ride on a horse and follow Taran of Caer Dallben on his adventures. I discovered the book was actually the second in a series, and quickly devoured the rest of the Chronicles of Prydain.
Lloyd Alexander's books are what made me fall in love with fantasy. Theybecame a direct line to Harry Potter, Lord of the Rings, Garth Nix, Tamora Pierce, and Megan Whalen Turner. I might have discovered those books eventually, but Prydain was my first and best love. They introduced me to the themes that so often appear in fantasy, ones I cherish and hold dear.
I will never forget the warleader Gwydion's final words at the end of the TheBlack Cauldron, after the trusted hero, Morgant, betrays Taran and his companions. Chained and helpless, Taran is saved by none other than Ellidyr, a spoiled, cruel prince who has demeaned the Assistant Pig-Keeper throughout the story. Ellidyr gives his life in a noble sacrifice, saving not only Taran but all of Prydain from the wrath of Arawn Death-Lord. After the battle, Taran stands with Gwydion before the pyres of the two men, each given equal honor.
"Morgant?" Taran asked, turning a puzzled glance to Gwydion. "How can there be honor for such a man?"

"It is easy to judge evil unmixed," replied Gwydion. "But, alas, in most of us good and bad are closely woven as the threads on a loom; greater wisdom than mine is needed for the judging. King Morgant served the Sons of Don long and well...in battle he saved my life more than once. These things are part of him and cannot be put aside or forgotten."

"And so I shall honor Morgant," Gwydion said, "for what he used to be, and Ellidyr Prince of Pen-Llarcau for what he became."
Reading this at age 8 shaped me in ways I'm still discovering. In Prydain I learned about courage, humility, and the importance of trusting in your friends.  I cared far more about these lessons than the books' main character, Taran, who grows from boy to man in the classic hero's journey over the course of the series.  Honestly? I could not STAND Taran when I read The Book of Three, the first book in the series. He was a whiny, obnoxious teenage boy, a precursor for the whiny, obnoxious teenage boys I would hate in Star Wars, Harry Potter, and Lord of the Rings (as an adult, I've softened considerably towards them all, but I digress). I instead fell in love with the adult side characters of Prydain, all of whom became my fictional mentors: the hyperbolic bard Fflewddur, grizzled veteran Gwydion, wise soldier-turned-farmer Coll, and my original problematic fave, the enchantress Achren, who fascinated me and is responsible for my adult love of morally ambiguous older women
But The Chronicles of Prydain lacked one very important thing: girls. It was a stark contrast to the other books I devoured during that period, which all centered on young girls my age or only slightly older. Alexander's series had ONE girl, Eilonwy, who I loved but didn't relate to in the slightest. Despite our differences, she remained so necessary to my enjoyment of the series that I refused to read the penultimate book of the series, Taran Wanderer, because I knew Eilonwy was not in it (as an adult, Taran Wanderer is arguably the strongest, most poignant book of the series, but I digress once more).
I loved Prydain, I wanted to live in Prydain, but I missed seeing myself. I missed reading about girl heroes. As I grew older, I would read some of Alexander's other work that starred plucky heroines, but none of them spoke to me in the same way as The Chronicles of Prydain. I discovered Lord of the Rings in middle school, losing myself in a world even more lush and vast, but ran into the same problem with the lack of women (as well as the painfully blatant racism). I didn't discover Tamora Pierce's Tortall books until late in high school, and while I adored the heroines of Garth Nix's Abhorsen trilogy, the Old Kingdom didn't quite have the same epic fantasy feel that I loved in Prydain and Middle-earth.
By the time I got to high school, I'd become so frustrated with my inability to find The Perfect Fantasy Book that I circled back to Prydain and read the books for the first time in over six years. It was a much-needed trip down memory lane, and I appreciated new things that I didn't pick up on as an eight-year-old (mainly the extreme sexual tension between Gwydion and Achren). But the problem of Taran as the focal character continued to plague me. I yearned for a fantasy world where I could see myself, a half-Lebanese girl just as capable of adventure as Taran and unhindered by the constraints Eilonwy faced as a woman.
At this point, I realized I would never find a book that told the story I truly wanted. So as I re-read Prydain, I began to create my own fantasy world. One that shared elements of Prydain and Middle-earth but whose characters embodied me and the women who had been my teachers and mentors. I vowed to write a novel that would be my own Black Cauldron, one that I loved just as much as Alexander's stories but that starred a girl like me.
Depression and shifting priorities meant I didn't start writing until seven years later, but I spent those seven years daydreaming, doodling, scribbling out fragments of a fantasy world that existed largely in my head. When I did start writing, my focus was always on women and their relationships to each other, particularly those of young girls and their teachers. I had seven years' worldbuilding practice when I eventually set out to create new worlds in short stories and comics.
Since that time, I've written short stories, a graphic novel, more works of fanfiction than I'll ever admit here, and a novel that bears no resemblance to the one I imagined when I was fifteen, save that it is a story about a teenage girl and a washed-up, highly imperfect woman who finds a second chance in teaching her. And it is thanks to Lloyd Alexander that any of these exist.
"Once you told me that the seeking counts more than the finding. So, too, must the striving count more than the gain."
---
Personal Canons is a series exploring the works of genre fiction that have shaped us as readers, writers, and people. This series features contributions by established authors, new and aspiring authors, readers, and fans.
Care for yourself and the people around you. Believe that the world can be better than it is now. Never give up.