Stone Soup Digest 03.24.23
Introducing Julian (attempt 2, now with Fewer Broken Things)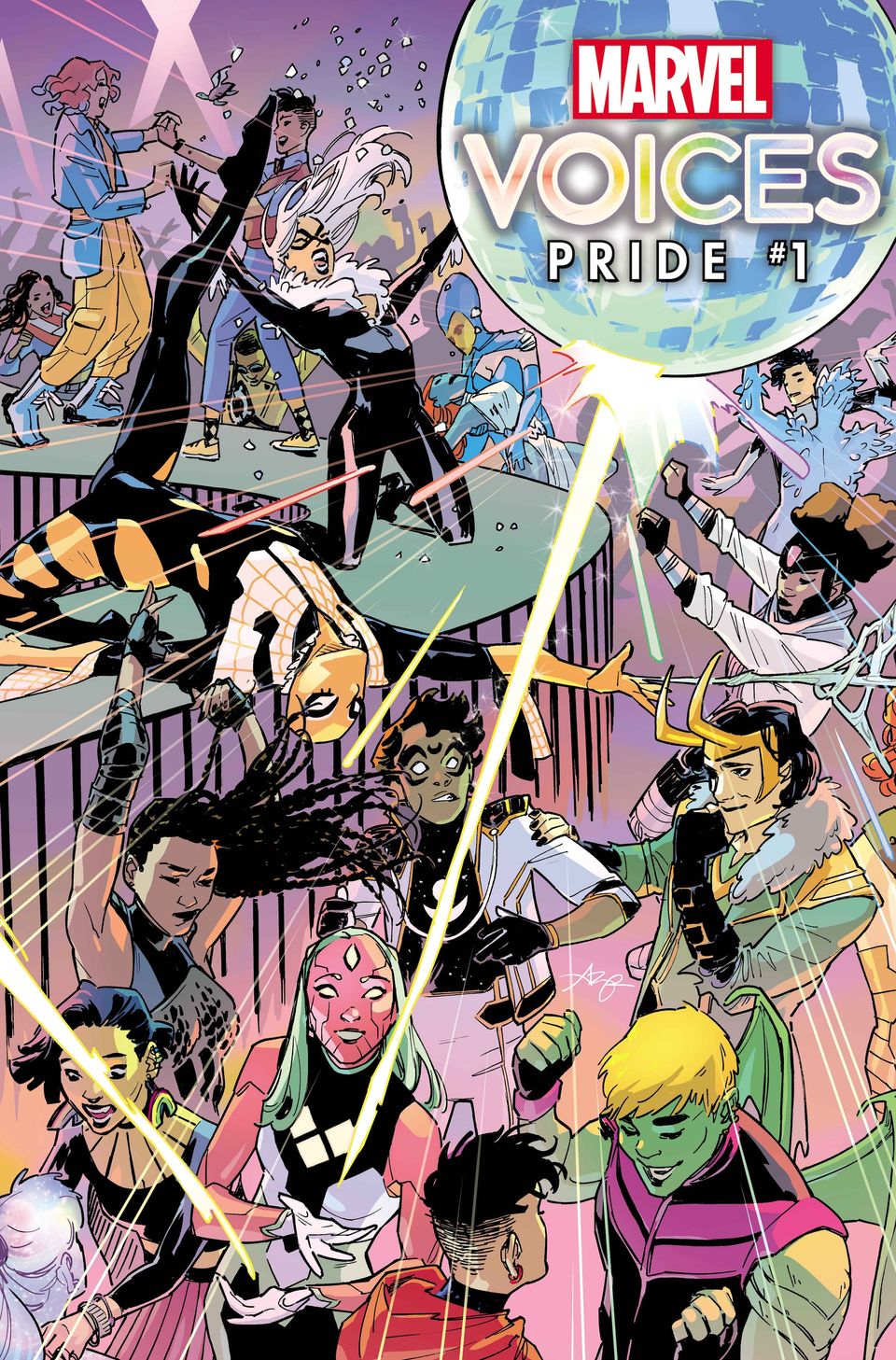 Welcome to the Stone Soup Weekly Digest! This is where I share what I'm up to and some of my favorite things from around the internet. Subscribe to Stone Soup to get this in your inbox every week.
---
I'm so happy to share that the team here at Stone Soup is welcoming a new member: proofer extraordinaire Julian Stuart! Friend of the newsletter and occasional contributor, Julian is bringing their expert eye to all future Stone Soup content to make sure the links work, the names are spelled right, the TKs are TK'ed, and all the i's have dots over them. Welcome to the team, Julian!
PS - if you're seeing this in your inbox for a second time, it's because something went wrong with Stone Soup's image hosting today. I've removed book cover images until I can figure out what the heck is going on. Please click through on the links to see all these beautiful book covers. :') -SG
---
Maybe you've already heard that Marvel is releasing Marvel Voices: Pride again this year! Just like the last two Marvel Pride anthologies, this collection of stories is going to be a really amazing celebration of queerness in comics. I am thrilled to share that I'm writing the legendary BLACK CAT for the 2023 Pride anthology! Check out the rest of the lineup here, and don't forget to preorder from your local comic shop!
Small Wonders Magazine: Year One on Kickstarter
Co-editors Stephen Granade and Cislyn Smith are launching a brand-new paying market for short fiction! Small Wonders bills itself as "a beautiful new market to showcase storytellers giving us insights into the small wonders they create." Personally, I couldn't be more excited about this addition to the short fiction ecosystem. Smith says:
Small Wonders is dedicated to bringing readers wonderful science fiction, fantasy, and horror in small packages: stories under a thousand words and narrative poems. We're big fans of them and want to provide more space for them while paying authors and poets market rates. We'd love folks' help to make that happen.
Go back the project on Kickstarter and get ready to send in your work!
This review of The Vampire Slayer #12 is a beautiful celebration of the whole team, and the work we've done together on this 12-issue arc in the Buffyverse.
Cory Doctorow will not allow his books to be sold with Amazon's Digital Rights Management (DRM) attached. DRM is what allows Amazon to essentially revoke a reader's ownership of a book, without a refund and sometimes without notice.
DRM is a shitty and frankly dangerous tool of both capitalist extortion and fascist media censorship. If a reader decides to stop engaging with Amazon financially, they lose access to the book they paid for; if Amazon decides to submit to a book ban or mandated book revisions in support of a specific agenda, the reader loses access to the book they paid for.
The situation can best be summarized in Doctorow's own words: "I won't let my audiobooks be sold with DRM, so Amazon won't carry them. [...] That means that I pay to record my own audiobooks, and use Kickstarter to pre-sell 'em." Go check out the Kickstarter for Doctorow's next book, Red Team Blues.
*Red Team Blues* is my next novel, a #PostCyberpunk anti-finance finance #thriller; it's a major title for my publishers @TorBooks and @HoZ_Books, and it's swept the trade press with starred reviews all 'round. Despite all that, #Audible will not sell the #audiobook. 1/ pic.twitter.com/vCfL6yEtpm

— Cory Doctorow (@pluralistic@mamot.fr) (@doctorow) March 22, 2023
---
Personal Canons Cookbook Highlight: Rae Mariz
This week's Personal Canons Cookbook author is Rae Mariz. Mariz is a speculative fiction storyteller, artist, translator, and cultural critic. She's the author of the YA sci-fi The Unidentified (2010), the climate fantasy Weird Fishes (2022), and many works of narrative non-fiction in between. Rae has long roots connecting her to the Big Island, the Bay Area, and the Pacific Northwest and lives in Stockholm, Sweden with her long-term collaborator and their best collaboration yet.
Mariz has written a stunningly incisive essay on how we learn about food through family, community, children, and ancestors. The essay is accompanied by a recipe for a homemade vegan version of Spam (along with some less-vegan fixings) to make a generous, satisfying rice bowl. In this recipe, Mariz weaves a whole life and a whole world into a single meal. Go read Feeding Future Ancestors, and change the way you understand food.
---
Featured New Releases:
March has so many incredible books coming out! Rather than do a single featured new release, as I usually do, I thought I'd highlight a handful. This is because I could not pick between them, and it's my newsletter, so I don't have to. I'm mad with power. Some of these are from the last couple of weeks, some are from this week. Let's dive in!
What does it mean to "be in-kind" with a nonhuman animal? Or in Dr. Sean Kell-Luddon's case, to be in-kind with one of the last remaining wild wolves? Using a neurological interface to translate her animal subject's perception through her own mind, Sean intends to chase both her scientific curiosity and her secret, lifelong desire to experience the intimacy and freedom of wolfishness. To see the world through animal eyes; smell the forest, thick with olfactory messages; even taste the blood and viscera of a fresh kill. And, above all, to feel the belonging of the pack.
Sean's tireless research gives her a chance to fulfill that dream, but pursuing it has a terrible cost. Her obsession with work endangers her fraying relationship with her wife. Her research methods threaten her mind and body. And the attention of her VC funders could destroy her subject, the beautiful wild wolf whose mental world she's invading.
IndieBound | Barnes & Noble | Local Library | Bad River Website
Since her village chased her out with pitchforks, Tara Abernathy has resurrected gods, pulled down monsters, averted wars, and saved a city, twice. She thought she'd left her dusty little hometown forever. But that was before her father died.
As she makes her way home to bury him, she finds a girl, as powerful and vulnerable and lost as she once was. Saving her from raiders twisted by the God Wars, Tara changes the course of the world.
IndieBound | Barnes & Noble | Local Library | Bad River Website
On a remote, gas-wreathed outpost of a human colony on Jupiter, a man goes missing. The enigmatic Investigator Mossa follows his trail to Valdegeld, home to the colony's erudite university—and Mossa's former girlfriend, a scholar of Earth's pre-collapse ecosystems.
Pleiti has dedicated her research and her career to aiding the larger effort towards a possible return to Earth. When Mossa unexpectedly arrives and requests Pleiti's assistance in her latest investigation, the two of them embark on a twisting path in which the future of life on Earth is at stake—and, perhaps, their futures, together.
IndieBound | Barnes & Noble | Local Library | Bad River Website
Grieving mother Magos cuts out a piece of her deceased eleven-year-old son Santiago's lung. Acting on fierce maternal instinct and the dubious logic of an old folktale, she nurtures the lung until it gains sentience, growing into the carnivorous little Monstrilio she keeps hidden within the walls of her family's decaying Mexico City estate. Eventually, Monstrilio begins to resemble the Santiago he once was, but his innate impulses—though curbed by his biological and chosen family's communal care—threaten to destroy this fragile second chance at life.
IndieBound | Barnes & Noble | Local Library | Bad River Website
---
If you're a paying subscriber, come by the Stone Soup Supper Club for our weekly chat! I can't wait to find out how you're doing.
—Gailey