Stone Soup Digest 04.01.22
Unions, Tenebrous, Baffling
Welcome to the Stone Soup Weekly Digest! This is where I share what I'm up to and some of my favorite things from around the internet. Subscribe to Stone Soup to get this in your inbox every week.
---
Welcome to April! This week saw the release of the Buffy the Vampire Slayer 25th Anniversary Special, featuring the prologue to my new series in the Buffyverse, The Vampire Slayer. There are some really rad stories in here from fantastic authors and artists. You can get a copy here, and if you already read it and want a sneak preview of my first few issues, check that out over at Bleeding Cool!
The start of the month also means a brand-new Stone Soup Supper Club! This month, I'm sharing my secret formula for the Perfect Fruit Salad. The formula goes like this: The anchor, the best friend, the intrigue, the interloper, the seasoning, and the binder. To find out what all that means (and to see several recipes that use the formula) click here! If you're not already subscribed, have a first-of-the-month 20% discount, just because.
---
Holy shit, what a day. An 8,000-person Amazon warehouse on Staten Island voted to unionize today! This is a landmark victory and I hope with all my heart that this, alongside the ongoing Starbucks Unionization movement, inspires workers everywhere to unite. Companies that are massive, rich, and powerful often think that they have the right to exploit their workers, because who's going to stop them? Unions, that's who. If even Amazon can't suppress unionization efforts, just imagine what might be possible.
I discovered this week that I had an email inbox I didn't know about. That people have been sending emails to. For years. In fact, lots of you have been emailing that inbox. (I'm so sorry I didn't know you were emailing me. I promise I wasn't ignoring you.) If you're looking for some real-life horror, this is the thread for you.
One Hand to Hold, One Hand to Carve by M. Shaw is out today!
Two halves of a human cadaver awaken on a cold morgue slab. The two distinct personalities, Left and Right, remember nothing of their previous life as a singular body. Bound by necessity to carve out an existence on the fringes of society, the two brothers have very different ideas of the life they want. Their impending schism will lead each on his own frightening path; one forward to a new life, one backward to the origin of their struggle.
You can read an interview with the author at Jo Ladzinski's blog. Congratulations, M. Shaw and Tenebrous!!
Go read stories by Lauren Bajek, Sean Chua, Karyn De Freitas, Ruth Joffre, Iori Kusano, Ann LeBlanc, Jackson Jesse Nash, and Bogi Takács!

---
Nell Young's whole life and greatest passion is cartography. Her father, Dr. Daniel Young, is a legend in the field and Nell's personal hero. But she hasn't seen or spoken to him ever since he cruelly fired her and destroyed her reputation after an argument over an old, cheap gas station highway map.
But when Dr. Young is found dead in his office at the New York Public Library, with the very same seemingly worthless map hidden in his desk, Nell can't resist investigating. To her surprise, she soon discovers that the map is incredibly valuable and exceedingly rare. In fact, she may now have the only copy left in existence . . . because a mysterious collector has been hunting down and destroying every last one – along with anyone who gets in the way.
But why?
To answer that question, Nell embarks on a dangerous journey to reveal a dark family secret and discovers the true power that lies in maps . . .
---
Meddy Chan has been to countless weddings, but she never imagined how her own would turn out. Now the day has arrived, and she can't wait to marry her college sweetheart, Nathan. Instead of having Ma and the aunts cater to her wedding, Meddy wants them to enjoy the day as guests. As a compromise, they find the perfect wedding vendors: a Chinese-Indonesian family-run company just like theirs. Meddy is hesitant at first, but she hits it off right away with the wedding photographer, Staphanie, who reminds Meddy of herself, down to the unfortunately misspelled name.
Meddy realizes that is where their similarities end, however, when she overhears Staphanie talking about taking out a target. Horrified, Meddy can't believe Staphanie and her family aren't just like her own, they are The Family – actual mafia, and they're using Meddy's wedding as a chance to conduct shady business. Her aunties and mother won't let Meddy's wedding ceremony become a murder scene – over their dead bodies – and will do whatever it takes to save her special day, even if it means taking on the mafia.
Add Four Aunties and a Wedding to your tbr here. Order it from your local independent bookseller, or order it via Bookshop.org to support independent booksellers throughout the US and the UK. For international shipping, you can try Barnes & Noble. If you prefer audiobooks, here's a Libro.fm link. You can also request Four Aunties and a Wedding from your local library — here's how to get in touch with them. And if you need to order from the Bad River Website, here's a link that will leverage your order for good.
---
Kitten Update
This week, Bert and Calamity encountered the first rainstorm they've been aware of. I'm sure it's rained since they came home with us, but maybe not this hard, or maybe they just had other stuff going on those days, I don't know. The point is, they lost their minds. A sustained hour of kittens zooming around the house at top speed was quickly followed by a snuggly, sleepy day. There's nothing in the world quite like listening to the rain while two exhausted kittens purr on your lap.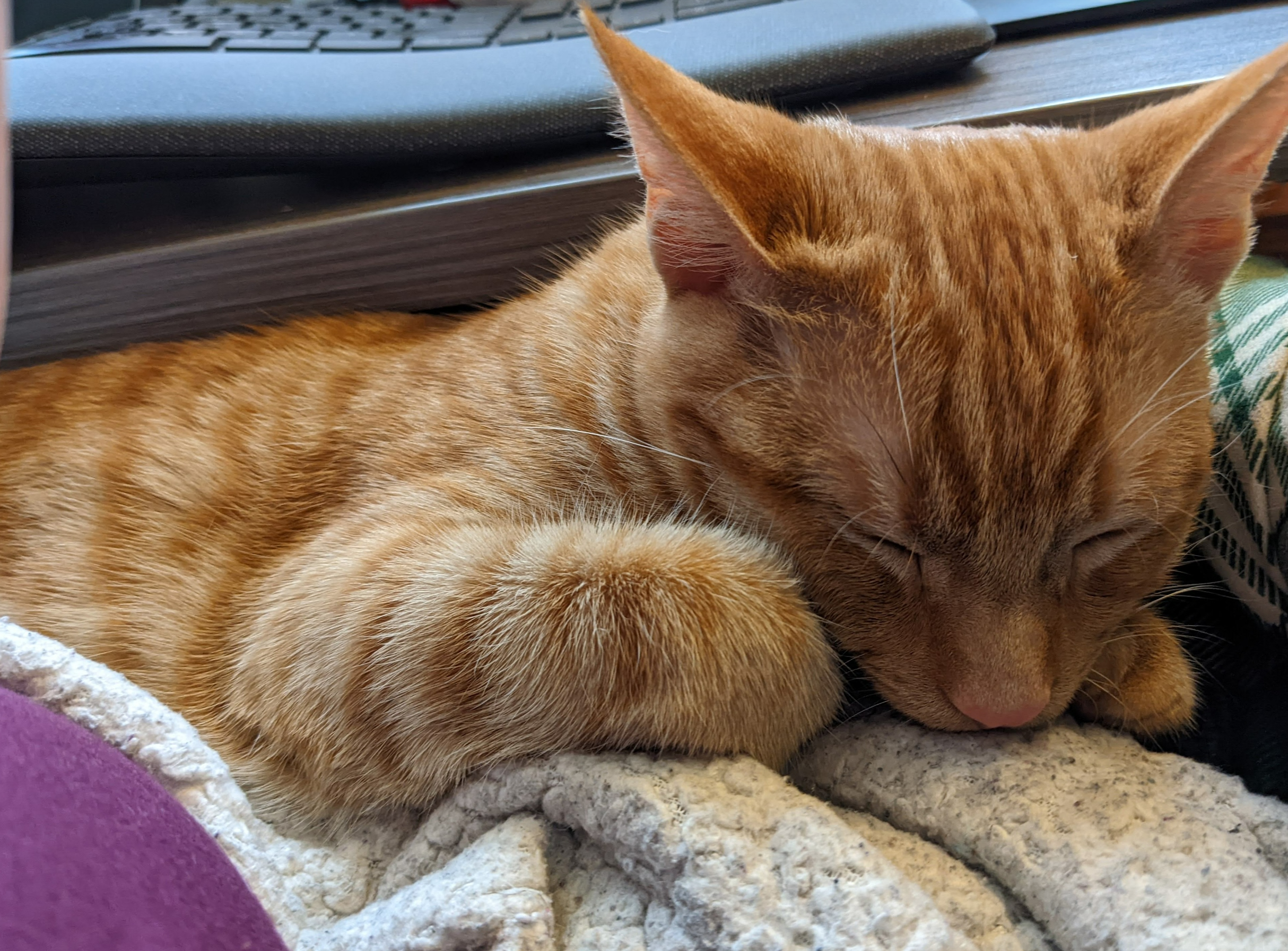 As you're surely aware, queer and trans children are still under attack across the United States; Ukraine is fighting against a Russian invasion; AAPI communities are facing discrimination and violence. If you're struggling to figure out how to help, here are some places to start.
If you're a paying subscriber, come by the Stone Soup Supper Club for our weekly chat! I can't wait to find out how you're doing.
—Gailey