Cook For Iran: Making Khoresht-e Bademjoon When I'm Homesick
A Personal Canons Cookbook Feature by Naseem Jamnia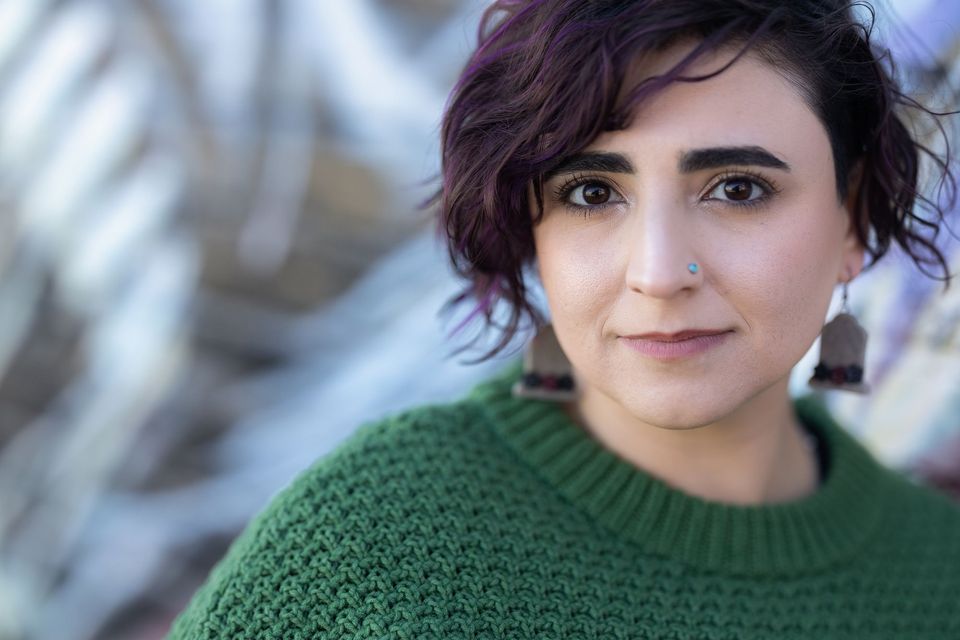 Naseem Jamnia is the author of The Bruising of Qilwa, a novella introducing their queernormative, Persian-inspired world, which received two starred reviews and was included on both Tor.com's and Library Journal's "Best of 2022" lists. They've received fellowships from Lambda Literary, Bitch Media, and Otherwise Award, and were named the inaugural Samuel R. Delany fellow. They are also the managing editor at Sword & Kettle Press, a tiny publishing house of feminist speculative writing. A former neuroscientist and Persian-Chicagoan, Naseem lives in Reno, NV, with their husband, two dogs, and two cats. Find out more at www.naseemwrites.com, where you can sign up for their newsletter, or on social media @jamsternazzy.
Readers of The Bruising of Qilwa will recognize this as Parviz's "favorite" dish.
---
I pull out four long eggplants and place them on the cutting board. The purple skins shine as I rinse them, peel them in a pile, turn back to the sizzling onions in the pot. Half-moons already softening from crescents to lines sweat in oil. Beef, instead of the traditional lamb, browns in the pot. Beef is more widely available in the United States than lamb. Beef wasn't widely used in Iran until recent decades—perhaps still isn't widely used or available. My mother says ye angosht of water over the meat and onions, turmeric, but she meant a knuckle, not a finger. Before reaching that point, I let the meat darken. Not caramelize—that's a different process. This is the Maillard reaction, the interaction between amino acids and carbonyl group on sugars—a reaction whose electrons I once traced out in organic chemistry, details long forgotten.
The Maillard reaction is named after a French dude. As early as the 18th century, and commonly in the 19th and 20th centuries, rich Iranians would send their children to be educated in France, with the expectation that they would bring that education back to Home Country if they returned at all. The original Persian word for mother is madar, but the common word is maman. Am I colonizing my cooking as my language has been colonized?
꘏
Maman never uses recipes when she cooks. She never taught me to cook, either. I learned while perched at her elbow, watching as she half-mooned onions or chunked meat or cleaned excess skin off chicken thighs. Substituted dates for raisins because I don't like raisins. Chopped cucumbers for yogurt, asking me to fetch her the dried nanah, which I learn to identify by smell. She crushes the dried mint between her palms when I bring her the bag, triumphant that I could tell it apart from the basil. She does not use a mortar and pestle for spices except for saffron, crushed with a sugar cube. Unlike the food from neighboring countries, Persian cooking in general uses few spices: salt, pepper, turmeric, saffron, and bundles and bundles of fresh herbs. Limoo amani, dried limes, to give the distinct tartness for which many of our stewy khoreshts are known. Caramelized and Maillard-ized onions, as a base.
Sugars interacting with amino acids describes the Maillard reaction. Am I supposed to let this beef brown before adding ye angosht ab? Was I supposed to chop the meat gheimeh sized instead of ghormeh sized?
꘏
No recipe, but instinct to guide me. How to trust instinct when all my food never turns out quite like my mom's? Something is always off. Patience is key, I know. Don't rush the onions, or they'll burn. Don't rush the tahdig, or it'll burn. I burn every tahdig I rush, but when I don't, my timidity with the heat turns the rice from pale white to light yellow instead of the crisp, golden brown I expect. My husband tells me to relax; my food is better than my mom's anyway. I indulge him in the lie.
My wooden spoon yellows as I dump turmeric into the pot. How much is too much? Growing up, all our wooden spoons were stained. What good's a clean wooden spoon anyway, when a used one shows the hours of love poured into a dish? Persian food takes hours to jah beofteh, fall into place. Simmer flavors. Meld the ingredients, including the love.
Love is key, I know. When I taste my dishes, no matter what my husband says, they're never quite as good as Maman's.
꘏
Language is a barrier. I could try to struggle through the written Farsi of the Persian-French cookbook my mother gave me, the only cookbook she ever had and whose recipes she never used. She tells me the old cookbooks say to use "the right amount" of turmeric. Instinct again: how much is too much? How much of me is too much? I say bademjoon when I should be saying bademjaan. The Tehrani dialect my parents taught me is the language of diaspora, but the words are spelled aleph-noon, not vov-noon; aan becomes oon becomes a mark of never feeling enough. The word joon, meaning jaan, means dear one. Means life. We use it as a suffix for people. Naseem-joon meaning Naseem-jaan meaning here is the love I have for you, given to you by name.
So there are no cookbooks, no recipes except the steps; I text my mother for instructions to make my favorites: lubia polo, morgh-o aloo, kufteh kermanshahi, estomboli. Hours of my Chicago childhood were spent perusing grocery stores with her: North Water Market on Devon, the neighborhood of brown people from our part of the world, then the "Arab market" when North Water's prices became too high. Piling our cart with bag after bag of thin, plate-sized pitas for our breakfast, at least ten. Any brown Chicagoan can tell you shopping at Jewels is expensive when you could go to a local store instead. When we'd go to Sam's Club, she'd buy foam dishes of raw meat for my dad to portion into quart Ziplocs. In our extra freezer, I'd pull out a Ziploc full of ground beef for kabob maiytabeh, a Ziploc of chicken breasts for morgh-e irooni, a Ziploc of lamb chunks for whatever khoresht was on the menu that day. And sometimes, I'd pull out several Ziplocs of ground beef and ground lamb for my dad to make kabob on the grill instead of my mom's on the stove, flat metal skewers coated with the mix of ground meat and blitzed onions and salt and pepper.
Maman's instructions contain no measurements, no timings, only steps. Brown the onions. Add the meat. Ye angosht ab. Then, bat jah beofteh. Every day I fail to use it, my first language erodes on my lips. My eyes already glaze past the letters I know but don't know. When my tongue tastes onions saffron turmeric yogurt mint cilantro saffron saffron saffron, something is wrong.
It should be zafaroon, zafaraan. It should be zarchubeh. What is the word for your culture's tie to food, to language, being lost to you over time?
꘏
I crush dried mint between my palms over the bowl of yogurt and diced cucumbers. I dump saffron from the mortar and pestle into a small mug with a pad of butter before pouring hot water, cooled from boiling, over top. Red turns yellow turns gold. Saffron is more precious than gold, more expensive: three red threads per purple crocus flower. Saffron is thought to originate in Iran. Anyone cooking Persian food knows that truth. Did Maillard try saffron when he lived in Algeria?
Turmeric stains my wooden spoons. Maman has switched to all silicone.
꘏
There's a revolution in my parents' home country. Women take to the streets, chanting for life and freedom. Men take to the streets, chanting for their women. How many people are lost between those categories, people whose bodies are dragged into vehicles and thrown behind bars for moharebeh, just for being true to themselves?
My mom fled a revolution. The first Revolution. The Revolution co-opted by men who believed their power was God-given. Who used the language of God to oppress their people.
Moharebeh means crimes against God. Moharebeh is leveled against people who choose to resist the men who co-opted a revolution. My mother, an initiate on the Sufi path. My mother, who fled the embers of Revolution in her homeland and never returned, who is not any safer in the US where another revolution is taking place. My mother, living across the street from a MAGA flag. My mother.
꘏
Most cultures are food cultures. Persian culture is a food culture. Persian food culture is learning cooking at your mom's elbow, who began cooking for her whole family at age eight. Persian food culture is not using recipes and trusting your instincts, even when they lead you astray. Persian food culture is crushed saffron in hot water and butter. Persian food culture is knowing it's easier to cook for others than just myself or even myself and my husband. It's easier to wish my mom was here instead of 1,947 miles away.
꘏
It takes three hours until the meat is fork-tender. I undercook the tahdig and undercook the eggplant. I correct the tahdig and toss the eggplant in the pot with the meat after I add tomato paste. Later, I will learn that I should have sauteed the tomato paste first for maximum flavor, but I don't know that now. Instead, I worry I added too little tomato paste. I worry I added too much salt. I worry.
It has to jah beofteh, fall into place. The sauce thickens when I let it simmer without a cover. The bademjoon nestle and absorb the flavors of tomato and onion and turmeric and browned beef and have more texture than their usual mush. The tahdig browns when I turn up the flame for a few minutes.
And it's delicious.
---
Naseem's khoresht-e bademjaan
with pollo sefid ba tahdig and maast-o khiar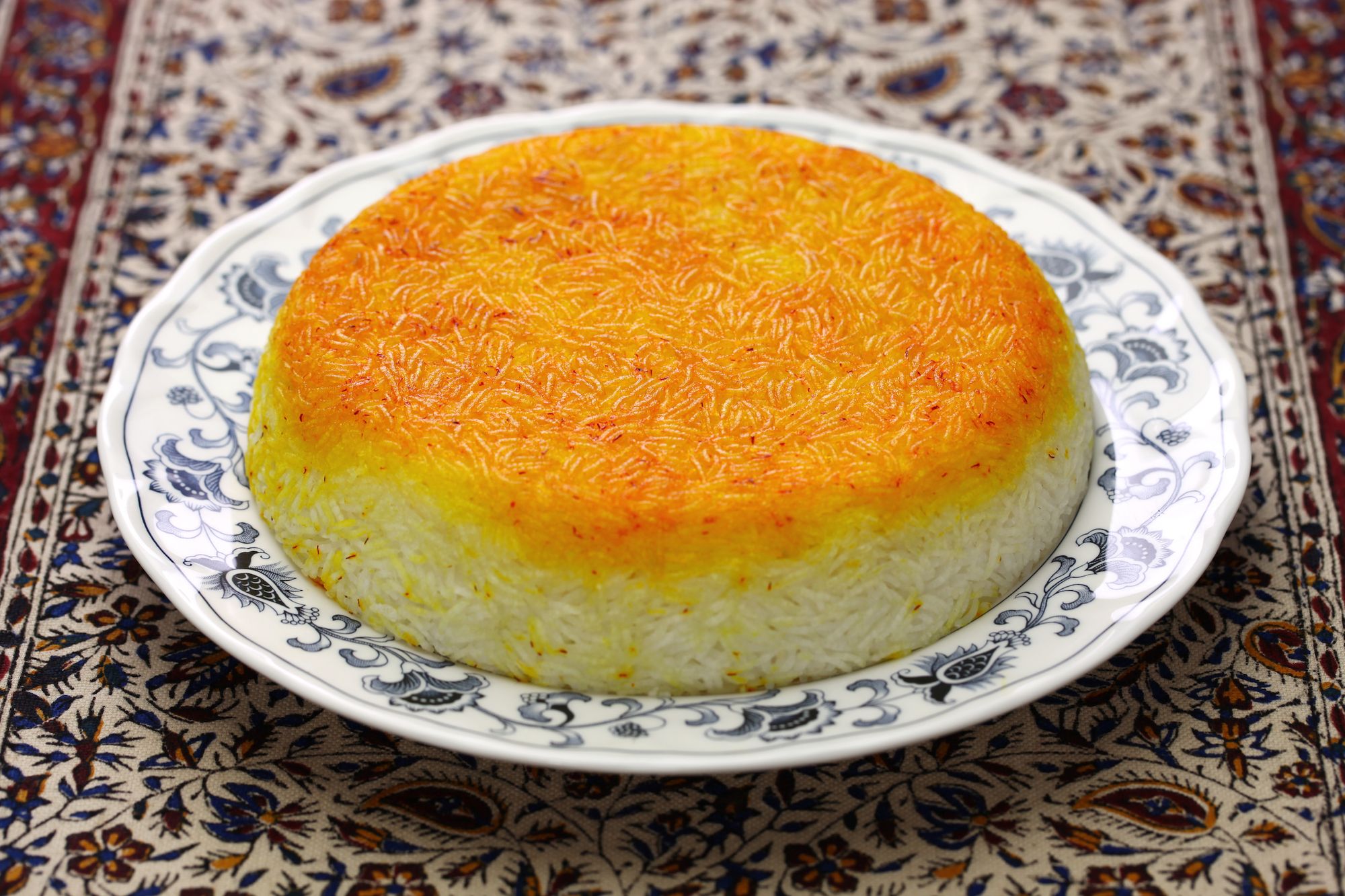 This trio of recipes prepares a hearty meal, perfect for a cozy dinner. Khoresht-e bademjaan (خورشت بادمجان) is a rich Persian eggplant stew made with beef or lamb, and it pairs perfectly with pollo sefid ba tahdig (پلو سفید با ته دیگ), a crispy-bottomed preparation of basmati rice. Serve with cool, refreshing maast-o khiar (ماست و خیار), a cucumber-yogurt condiment that balances the savory warmth of the stew. Prepared as written, this trio of recipes makes 4-5 generous servings.
Get the Recipe: PDF, Google Doc
---
In the meantime, care for yourself and the people around you. Believe that the world can be better than it is now. Never give up.
—Gailey