Stories for the Dislocated
A Guest Feature by Matt Wallace
The year was 1998 and I was lying outside a converted warehouse filled with approximately one hundred neighborhood residents in Jamaica, Queens watching a largely student professional wrestling show. The sidewalk smelled like spilt San Miguel Negra and the phosphor powder from a fluorescent tube I'd broken earlier in the afternoon pretending to lightsaber duel with another wrestling student before that evening's event. I was sweat-soaked and bound in spandex tights and I couldn't really feel my left arm which was a good thing because at that moment it had a four-hundred-pound man wrapped vise-like around it. I did, however, feel him wrench my recently dislocated shoulder back into place a few seconds later. The pain was so sudden and severe that my wide-open eyes saw nothing but black for what seemed like a very long time, and I stopped feeling the cold cement under me. In truth I completely lost my sense of reality.
Then I heard laughter, and when the world came back into focus I found myself staring up at half-a-dozen other wrestlers, professionals and my fellow students, who were looking down with great amusement at what most well-adjusted individuals would consider a gruesome and horrific and traumatic scene. They'd all been through similar experiences, many on the same sidewalk. We'd busted each other open and helped mop up each other's blood. There was even a Polaroid of me on the school bulletin board with my first wrestling-related bloody nose. Someone had scrawled beneath it, "I will tell my mommy!"
I think it was around then, as the feeling began to return to my arm and they all helped haul me up off the sidewalk and get me back on my feet, when it finally, truly hit me.
This was the family I'd found.
When I first heard the term "found family" as the concept relates to storytelling I'd already seen several of my books published and written for one television series. One of the pitfalls (or liberating factors, depending on your perspective) of not having a formal creative writing education is missing out on a lot of the established, "official" vernacular of storytelling. This particular piece of vernacular was revelatory for me. The trope of "people who are not blood family, but who a person forges deep and meaningful bonds with based on things like shared values, mutual care and support, understanding, unconditional love, and positive regard" (I found that definition via Google) hit me firmly where I live.
I realized I'd been writing found family stories ever since I began writing stories. I still do. I've done this because I spent half my life searching for such a construct to which I could belong. I continue to do it because those kind of stories helped me understand what I needed and wanted and inspired me to seek it out.
I don't think the "non-traditional" family was ever really non-traditional, not in actual life. I think our sense of what traditional family is, or has been in the past, was formed almost entirely by the portrayal of the nuclear family in media, from sitcoms to movies to advertising. In reality, being born into a nuclear family As Seen on TV is often like winning the fucking lottery. In reality, people have been finding their own families for as long as people have formed communities, often because they had to.
I was raised by a single a mother, who is wonderfully supportive and incredibly hardworking, and I was genuinely fortunate in that way. But I always felt incredibly alone, unable to connect with others, especially kids my own age. The isolation was bleak and became more all-consuming the older I got. When I was fifteen years old something finally broke inside of me. Broke down, broke loose, broke free; breaking isn't always a bad thing. I asked myself a question I hadn't been able to formulate up to that point: "What do I need to do so I don't wake up every morning wanting to die?"
I answered that question with professional wrestling. At the time, professional wrestling was kind of the last circus (I mean, the actual circus still existed, but whatever). It was very secretive and very much an outsider art form and community. I loved my wrestling family, and they protected and nurtured and cared for me fiercely. It was the first place that felt like it was mine, and I couldn't have progressed to the later phases of my life without it. I retain a million lovely memories of that time and those people and the places we frequented.
That said, it was far from perfect. I have an equal amount of not-lovely memories from those days. We all like the idea of joining a pirate ship, but we too often don't reckon with the reality of such an environment. My wrestling family was problematic as fuck. There was a lot of misogyny, a lot of homophobia, a lot of what I call AYMF (Angry Young Man Feels) looking for outlets and always seeming to find toxic ones. I ingested a lot of behavior I had to unlearn later in life.
Most profession-based communities have gone or still need to go through the same cleansing process as many quarters of pro-wrestling have and are experiencing. Stories about found family can and do help bring about those needed changes, while preserving and promoting the ideals of the concept that helped quite literally save my life. Those stories also serve as invaluable and equally life-saving surrogates for so many people who have yet to discover their place in the world, among people who will choose to love and value and protect them.
Ultimately, the wonderful thing about found family stories is that every kind of family can be found and displayed. We can show people households and communities they never considered. We can show them how those units make every part of the whole stronger. We can also show the dysfunction that exists in all families, and where boundaries can and should be established.
I don't really have an ending for this, so about my shoulder: it still feels loose sometimes. My collarbone on that side is sunken and a bit displaced. When I roll the wrong way in bed I feel that shoulder stressing, like it just might pop free, all these years later. That sensation draws a line straight back to that moment, sprawling on a stained outer borough sidewalk, surrounded by the first family I chose, for better and for worse.
---
Matt Wallace is a retired professional wrestler and the author of the Sin du Jour novella series (Tor.com Publishing), the Savage Rebellion series (Saga Press), and BUMP (Katherine Tegen Books). In 2018, alongside co-host Mur Lafferty, he took home the Hugo Award for their podcast, Ditch Diggers. In addition to writing for several television series, Matt has also done extensive narrative work on video game titles for publishers such as inXile Entertainment. He currently resides in Los Angeles with his wife, Nikki, and maintains a steady Twitter presence, as well as a more sporadic presence on YouTube with his channel, Angry Writer. His middle-grade debut, BUMP, will be available January 26th everywhere books are sold.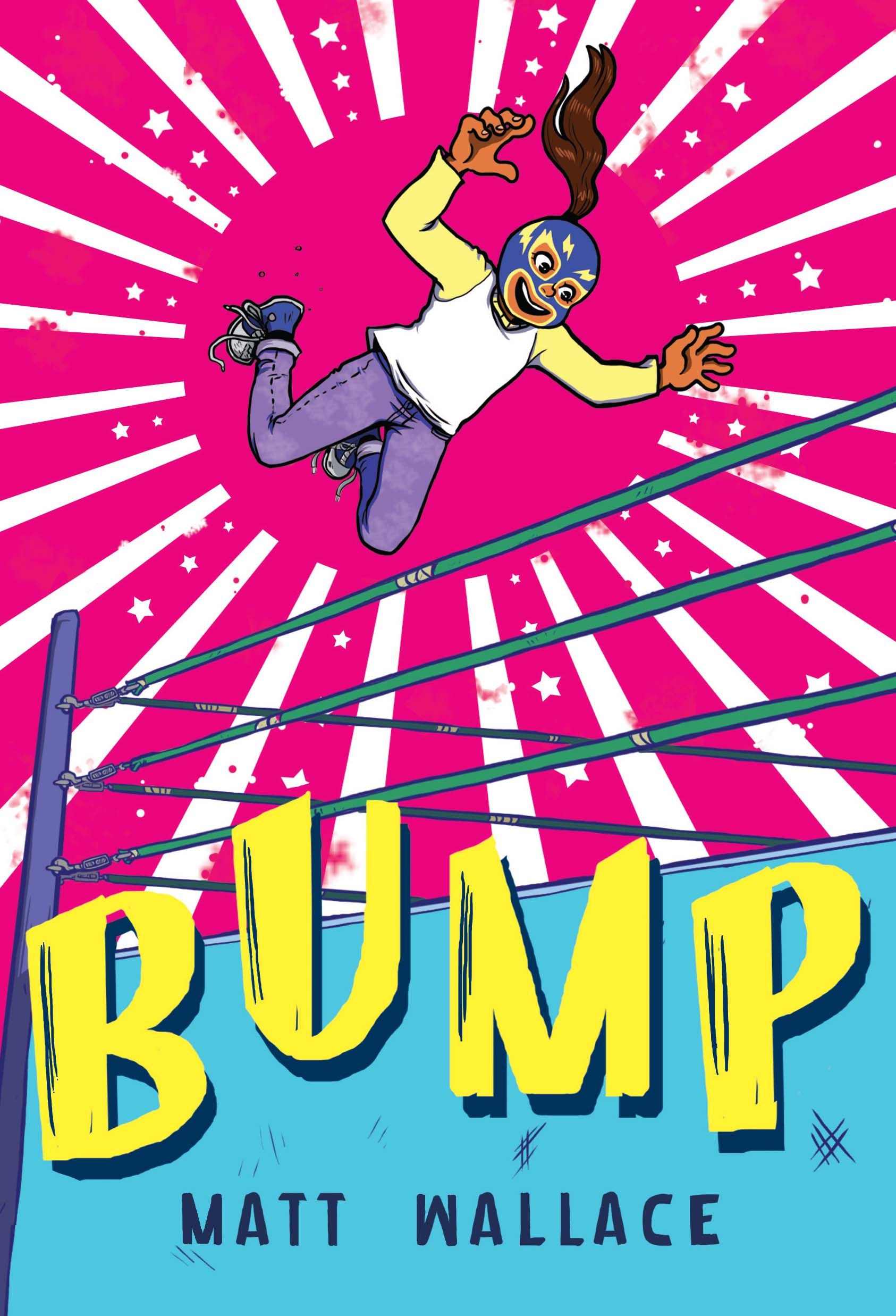 MJ knows what it means to hurt. Bruises from gymnastics heal, but big hurts—like her dad not being around anymore—don't go away. Now her mom needs to work two jobs, and MJ doesn't have friends at school to lean on.

There is only one thing MJ loves: the world of professional wrestling. She especially idolizes the luchadores and the stories they tell in the ring. When MJ learns that her neighbor, Mr. Arellano, runs a wrestling school, she has a new mission in life: join the school, train hard, and become a wrestler.

But trouble lies ahead. After wrestling in a showcase event, MJ attracts the attention of Mr. Arellano's enemy at the State Athletic Commission. There are threats to shut the school down, putting MJ's new home—and the community that welcomed her—at risk. What can MJ do to save her new family?
Add BUMP to your tbr here. Order it from your local independent bookseller, or order it via Bookshop.org to support independent booksellers throughout the US and the UK. For international shipping, you can try Barnes & Noble. If you prefer audiobooks, here's your Libro.fm link. You can also request BUMP from your local library — here's how to get in touch with them. And if you need to order from the Bad River Website, here's a link that will leverage your order to help get clean water to people who need it.
---
If you haven't already, I hope you'll consider subscribing to this newsletter. The subscriber community is a wonderful and supportive one, and we're going to spend 2021 finding new ways to stay connected and share experiences. Also, I have a book coming out in just under a month! You can pre-order The Echo Wife wherever books are sold.
In the meantime, care for yourself and the people around you. Believe that the world can be better than it is now. Never give up.
—Gailey