Thrilling Book News!
Magic For Liars is out in paperback!
It's the first Tuesday in May, and so many exciting things are happening in publishing today! The paperback edition of my book, MAGIC FOR LIARS, is available now everywhere books are sold. It's beautiful and I'm so proud of it! My boundless thanks to the entire team at Tor Books for making this paperback a stunner.
Here's how to get a copy without crossing any picket lines:
Call your local independent bookstore to order it through them! Indies need our love now more than ever, and lots of them are doing contact-free pickup and delivery! You can find your local stores at my beloved Indiebound.org!
Buy it via Bookshop.org to support a network of independent booksellers!
Order it from Barnes & Noble!
No matter how you get your hands on it, please consider rating and reviewing it! Your words and stars make an enormous difference in the lives of authors.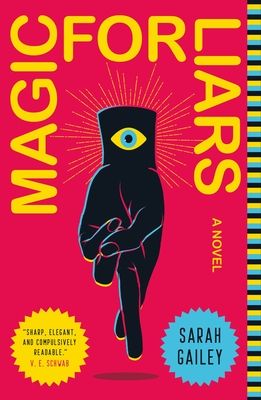 My book is just one in a sea of amazing titles that are dropping today. While you're checking out the paperback of Magic For Liars, why not take a look at her birthday buddies?
---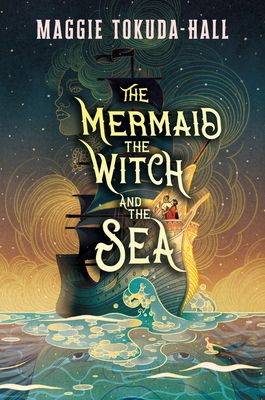 In a world divided by colonialism and threaded with magic, a desperate orphan turned pirate and a rebellious imperial lady find a connection on the high seas.
Maggie Tokuda-Hall's sweeping fantasy debut, full of stolen memories, illicit mermaid's blood, double agents, and haunting mythical creatures conjures an extraordinary cast of characters and the unforgettable story of a couple striving to stay together in the face of myriad forces wishing to control their identities and destinies.
⭐⭐⭐⭐⭐ This one's a must-read. It's one of my favorite books of 2020, and that's saying something. It's queer and furious and beautiful and heartbreaking. You don't want to miss it. I promise. Buy it today from your local indie, or click the title above to buy it from Bookshop.org.
---
Network Effect
by Martha Wells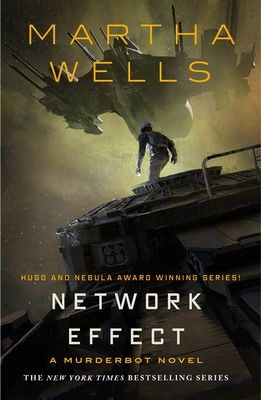 Martha Wells' New York Times and USA Today bestselling Murderbot series exploded onto the scene in 2017, and the world has not been the same since.
Murderbot returns in its highly-anticipated, first, full-length standalone novel, Network Effect.
You know that feeling when you're at work, and you've had enough of people, and then the boss walks in with yet another job that needs to be done right this second or the world will end, but all you want to do is go home and binge your favorite shows? And you're a sentient murder machine programmed for destruction? Congratulations, you're Murderbot. Come for the pew-pew space battles, stay for the most relatable A.I. you'll read this century.
Buy it today from your local indie, or click the title above to buy it from Bookshop.org.
---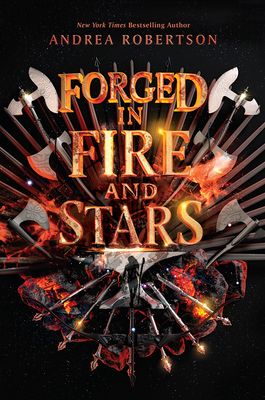 "Fans of Leigh Bardugo's Grishaverse will flock to this new series." --Booklist
Games of Thrones meets An Ember in the Ashes in this action-packed fantasy from the internationally bestselling author of the Nightshade series.
Ara has always known the legend of the Loresmith: the blacksmith who served alongside the kings and queens of Saetlund, forging legendary weapons to arm warriors and protect the kingdom. She's been told it's her fate to inherit the title and become the next Loresmith. But since the monarchy's downfall in a vicious conquest years before, Ara has never truly believed she would be able to take up her duty.
But when the lost Princess Nimhea and Prince Eamon steal Ara from her quiet life with a mission to retake the throne and return Ara to her place as the Loresmith--Ara's whole world turns upside down.
Suddenly, Ara must leave her small mountain village and embark on a dangerous adventure where she will uncover new truths about her family's legacy, and even face the gods themselves. With a mysterious thief as an unexpected companion, and dark forces following their every move, Ara must use all her skills to forge the right path forward--for herself, her kingdom, and her heart.
Buy it today from your local indie, or click the title above to buy it from Bookshop.org.
---
The Kingdom of Liars
by Nick Martell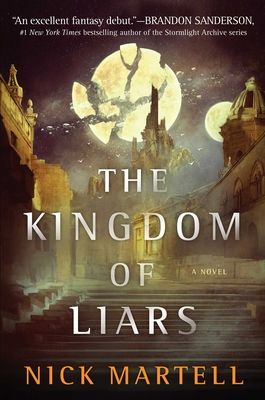 In this brilliant debut fantasy, a story of secrets, rebellion, and murder are shattering the Hollows, where magic costs memory to use, and only the son of the kingdom's despised traitor holds the truth.

Michael is branded a traitor as a child because of the murder of the king's nine-year-old son, by his father David Kingman. Ten years later on Michael lives a hardscrabble life, with his sister Gwen, performing crimes with his friends against minor royals in a weak attempt at striking back at the world that rejects him and his family.

In a world where memory is the coin that pays for magic, Michael knows something is there in the hot white emptiness of his mind. So when the opportunity arrives to get folded back into court, via the most politically dangerous member of the kingdom's royal council, Michael takes it, desperate to find a way back to his past. He discovers a royal family that is spiraling into a self-serving dictatorship as gun-wielding rebels clash against magically trained militia.

Buy it today from your local indie.
---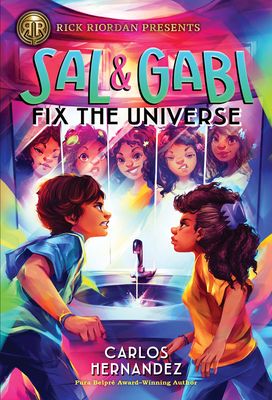 Best-selling author Rick Riordan presents the sequel to the critically acclaimed Sal and Gabi Break the Universe, a brilliant sci-fi romp with Cuban influence. Among many other challenges, Sal and Gabi have to try to make everything right with our world when there is a rogue Gabi from another universe running loose.
Sal Vidon doesn't want to live a Mami-free life. Pulling different versions of his mother from other universes is how he copes with missing his own, who died years ago. But Sal's father, a calamity physicist, is trying to shut down all the wormholes Sal creates, because Papi thinks they are eroding the very fabric of our world. All of Papi's efforts are in vain, however, because a Gabi from another universe has gone rogue and is popping up all over the place, seeking revenge for the fact that her world has been destroyed. While Sal and Gabi work together to keep both Papi and Rogue Gabi under control, they also have to solve the mystery of Yasmany, who has gone missing from school. Could it have something to do with the wormhole in the back of his locker?
Buy it today from your local indie, or click the title above to buy it from Bookshop.org.
---
Oh, and did I mention Magic For Liars? Maybe check out Magic For Liars, available in paperback now at your local independent bookstore and everywhere else books are sold! I wrote it! You can read it!
-Gailey